District 12 Toastmasters "Inland Empire" serves 95+ Toastmaster Clubs and 1700 members in the area of Southern California from Diamond Bar to Temecula, from Indio to Barstow, which includes San Bernardino, Riverside and East Los Angeles Counties.
Stanng 03:24, December 19, 2010 (UTC)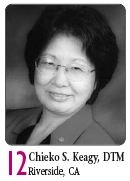 The 2005-2006 District Governor is Chieko Keagy, DTM. The LGET and LGM are Scott McGookin, DTM and Don Tungate, DTM.
District 12 Spring Conference
Edit
The Spring 2006 District 12 Conference will be held on Saturday, May 13, 2006.
The Divisions of District 12
Edit
Division A
Edit
Division B
Edit
Division C
Edit
Division D
Edit
Newsletter: Images
Edit
Create a club site
Edit
Click the [edit] button to the right of the text you want to edit, or click on "Edit this page" at the top of this window. An Editing window will open, allowing you to change this article.
Insert a link to your club's page here, typing the club name between two square brackets. For example, if your club's name is 4th Dimension, the code will be [[4th Dimension]]. (Note: If you fail to do this step, your club's page will be an orphan: not good.)
Click the "Save page" button at the bottom of the Editing window. You will return to this browsing window.
Now type that same name—it's case sensitive, so be careful—into the edit box below.
Click the "Create page" button—and have fun editing your club's page!
Articles pertaining to District 12
Edit
To have your page automatically included here, simply put the category tag anywhere on the page. You do this by inserting the code [[Category:District 12]] at the bottom of the page.
Community content is available under
CC-BY-SA
unless otherwise noted.