Serves seven districts in Louisiana, southern Mississippi, Alabama, Georgia, Florida, South Carolina, North Carolina, Virginia, and The Bahamas.
Districts
Edit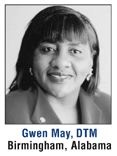 The Region VII International Directors are Gwen May, DTM and James Fair, DTM.
Region VIII Conference
Edit
The Date: June 8-10, 2006
The Place: DoubleTree Hotel, 990 Hilton Heights Rd., Charlottesville, Virginia USA
For reservations call the DoubleTree Hotel at 800-494-9467. When registering, mention Toastmasters to get this rate. Room rate **$89.00!** Must reserve by May 9, 2006
"Visiting with Mr. Jefferson" (Thursday)—Enjoy a day of history touring the historical sites of Charlottesville. Visit Monticello, home of President Thomas Jefferson and Ash Lawn, home of President James Monroe.
(Friday & Saturday)—Opening ceremonies and excellent education sessions. Join us for the Colonial Masquerade dinner and Ball. Prizes will be awarded for the best costume. Historical personality reenactments will take place throughout the conference. Come relive a bit of history.
Addition Region VIII Conference Information + Registration Form
Create a club site
Edit
Click the [edit] button to the right of the text you want to edit, or click on "Edit this page" at the top of this window. An Editing window will open, allowing you to change this article.
Insert a link to your club's page here, typing the club name between two square brackets. For example, if your club's name is Spirited Speakers, the code will be [[ Spirited Speakers]]. (Note: If you fail to do this step, your club's page will be an orphan: not good.)
Click the "Save page" button at the bottom of the Editing window. You will return to this browsing window.
Now type that same name—it's case sensitive, so be careful—into the edit box below.
Click the "Create page" button—and have fun editing your club's page!
Articles pertaining to Region VIII
Edit
To have your page automatically included here, simply put the category tag anywhere on the page. You do this by inserting the code [[Category:Region VIII]] at the bottom of the page.
Trending pages
All items (15)
Community content is available under
CC-BY-SA
unless otherwise noted.