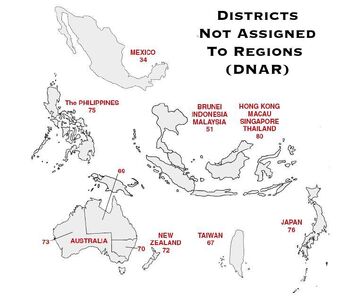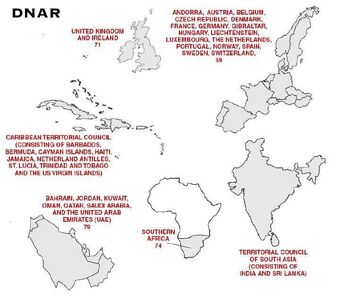 Districts lying outside of the United States and Canada are classified as Districts Not Assigned to a Region (DNAR). They span the world:
Africa
[
]
Asia - East Asia
[
]
Asia - Southeast
[
]
Asia—South, Southwest and West
[
]
Europe
[
]
North, Central, and South America
[
]
Oceania and Australia
[
]
Territorial Councils
[
]
The Board of Directors may create non-district administrative units, such as Territorial Councils, in any undistricted territories for the purpose of forming new districts. There must be evidence of potential growth of clubs and members in a specific geographical area within five years and the evidence of the desire of at least 20 existing clubs to form a Territory Council. Provisional District status may be granted by the Board when a Territorial Council has 45 or more clubs in good standing for two (2) consecutive semiannual reporting periods.
2006
[
]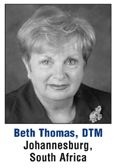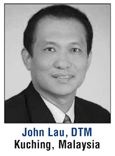 The DNAR International Directors are Beth Thomas DTM (2004-2006) from South Africa and John Lau DTM (2005-2007) from Malaysia. For more information on Districts Not Assigned to Regions, visit http://www.jlasc.com/dnar/index.htm?district=-1
Create a club site
[
]
Click the [edit] button to the right of the text you want to edit, or click on "Edit this page" at the top of this window. An Editing window will open, allowing you to change this article.
Insert a link to your club's page here, typing the club name between two square brackets. For example, if your club's name is Spirited Speakers, the code will be [[ Spirited Speakers]]. (Note: If you fail to do this step, your club's page will be an orphan: not good.)
Click the "Save page" button at the bottom of the Editing window. You will return to this browsing window.
Now type that same name—it's case sensitive, so be careful—into the edit box below.
Click the "Create page" button—and have fun editing your club's page!
<createbox>
 preload=Template:New_club_page
editintro=Template:Welcome
width=25

</createbox>
Articles pertaining to DNAR
[
]
To have your page automatically included here, simply put the category tag anywhere on the page. You do this by inserting the code [[Category:DNAR]] at the bottom of the page.
All items (17)